What are the benefits of suspended ceilings?
Suspended Ceilings are an important factor to consider when you want to create the right atmosphere and ambience.
A well-thought out and designed ceiling installation looks great, creates a good impression and can the improved working conditions can inspire staff to be more productive.
Whether you want to a lay a 'grid' style or 'concealed' ceiling, our friendly and knowledgeable staff are always on hand to offer help and advice.
The BIGGEST benefits of Suspended Ceilings
Quick and easy to install: Cheaper than plasterboard construction.
No decorating required: Pre-finished and ready to go.
Optimise light reflection: You may even save energy.
Suitable for anywhere: Can be suspended from any stable soffit or ceiling type.
Hide unsightly services: Light fittings, air conditioning and other pipework etc.
Provide fast access to ceiling void: Make maintenance of electrics, pipe work easy.
Array of options: Choose from wide range of designs, styles and colours.
Fire Safe: Can be made fire resistant to a specified level.
Keep heat in: Thermal insulation can significantly reduce energy loss.
Ideal for sterile environments: Can be 'Class 100' clean room approved.
Reduce noise: Achieve a specific interior acoustic noise level.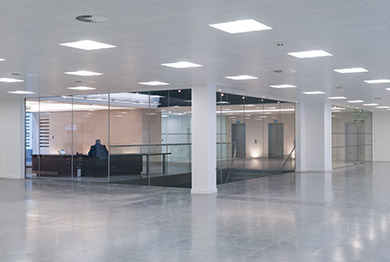 Submit a Design